Find out ways to recognize and help your child if he/she is being bullied. Read more...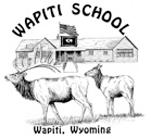 WORKING TOGETHER FOR EXCELLENCE IN LEARNING
Welcome to the Wapiti Elementary School website! Learning and fun go hand in hand in our elementary classrooms. We are a tight-knit community of hard working, hard playing, success-oriented individuals who work together to bring about the academic and personal success of every student in our care. Please visit the pages on this website to learn more about us.
A MESSAGE FROM OUR PRINCIPAL
Dear Families:
At our small and close-knit school, we're very proud of our students and their accomplishments. Our dedicated staff members work hard every day to provide the best learning opportunities possible for our student body. But we couldn't do any of it without our amazingly supportive community of parents and volunteers. Thank you for working with us for "excellence in learning."
My door is always open to you. Please stop by if you ever have any questions.
Sincerely,