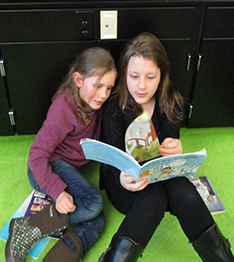 GIFTED AND TALENTED EDUCATION
Our school district is committed to developing responsible learners with skills and knowledge to succeed in an ever-changing world. We recognize that some students have the potential for performing at remarkably high levels when compared with others of their age, experience, or environment, and that these students require unique learning experiences.
TAILORED INSTRUCTIONAL SERVICES
The Park County School District provides tailored instructional services, known collectively as Gifted And Talented Education (G.A.T.E.), for intellectually gifted and talented students from kindergarten through grade twelve. We have designed our program to meet our students' academic, social, emotional, and creative needs. G.A.T.E. provides these students with opportunities for exploring, experiencing, and expressing as well as developing a sense of individual responsibility to the school community and to a changing society.
The mission of the program is to chart a course that launches the student on a lifelong journey of learning. Gifted and talented individuals have demonstrated abilities that give evidence of high performance capability in one or more of the following categories:
General intelligence

Specific academic aptitude

Creative thinking

Leadership

Visual, literary, or performing arts
For more information, visit our district's Gifted Education page.