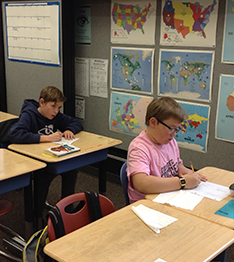 FREQUENTLY ASKED QUESTIONS
To answer some of your questions as quickly as possible, we've compiled a list of those most frequently asked by Sunset Elementary parents. Be sure to read more throughout this website and in our student handbook so that you're well-informed and prepared to support your child through a successful educational journey.
How do I register my child for school?

Is there a bus service available?

What should I do if my child must be absent?

When do report cards come out?

What is the dress code for Sunset Elementary?

What will happen if my child becomes ill while at school?
HOW DO I REGISTER MY CHILD FOR SCHOOL?
If you're new to the area and want to enroll your child in our school, our registration is online. Please visit our district's Registration page for more information.
IS THERE A BUS SERVICE AVAILABLE?
Yes, we provide bus services to our students. We consider riding the bus a privilege and expect students to follow bus rules and behave appropriately while riding the bus. Please refer to our Transportation page for bus schedules and details.
WHAT SHOULD I DO IF MY CHILD MUST BE ABSENT?
If your child must be absent from school, please call the school office at (307) 587.4279 before 9:00 a.m. and let us know your child's name and the reason for the absence. If your student's absence is due to a medical reason please get a note from the healthcare provider and have your student bring it to school.
WHEN DO REPORT CARDS COME OUT?
We are on a trimester schedule. We send home progress reports every 12 weeks or three times a year.
WHAT IS THE DRESS CODE FOR SUNSET ELEMENTARY?
We expect our students to dress appropriately and in good taste. Clothing that is immodest, extreme, or calls undue attention to itself or the wearer, such that the educational process is unduly threatened, undermined, or disrupted, is not appropriate. We do not allow shoes with any type of wheels (such as "Heelies," "Spinners," etc.).
We reserve the right to determine whether a student's clothing is appropriate for school. For more details regarding our dress code, please review the student handbook which is available via the Parent and Student quick links on the Home page.
WHAT WILL HAPPEN IF MY CHILD BECOMES ILL WHILE AT SCHOOL?
If a student becomes ill, we will attempt to notify a parent or guardian promptly, and we will care for the student in our nurse's station until a parent or guardian arrives. Students may not leave school grounds without either a parent or another approved adult (as listed on the student's information form). If the situation is a medical emergency, we will follow standard emergency procedures.